How Chinese Companies are Learning to Globalize
Presented by Dr. Anil K. Gupta,
from the Robert H. Smith School of Business, University of Maryland
Date: Wednesday, August 6, 2014
Time: 4 - 7 p.m.
Venue: Grand Ballroom, Marriott Hotel Northeast, Beijing
Language: English
Together with AmCham China, Confederation of Indian Industry, University of Maryland's Robert H. Smith School of Business is pleased to invite you to an opportunity to hear from Dr. Anil K. Gupta, widely regarded as one of the world's leading experts on strategy, globalization and entrepreneurship and author of the new book, The Silk Road Rediscovered on Wednesday, August 6, from 4-7 p.m. at the Marriott Hotel Northeast.
As is well known, the very top leadership in China is exhorting Chinese companies to "go global." As a result, Chinese enterprises have ambition and access to large pools of low-cost capital. At the same time, however, two major questions persist. First, do Chinese companies have the managerial and organizational capabilities needed to create global enterprises? Second, is state ownership of large enterprises an asset or a liability in the drive to go global? Dr. Gupta will share his views on the opportunities and challenges facing Chinese companies on the path to going global as well as the key ideas in his new book about the trajectory of the rapidly growing economic linkages between China and India.
Agenda
Please RSVP before Auguest 3th.
Complimentary for members of AmCham and Confederation of Indian Industry, Smith Business School Alumni and Smith Business School corporate partners only. Dress code is smart casual.
About the Book
The Silk Road Rediscovered: How Indian and Chinese Companies Become Globally Stronger by Competing in Each Other's Markets provides a roadmap for understanding the business challenges and opportunities in China. By 2025, China and India will be two of the world's four largest economies. By then, economic ties between them should also rank among the ten most important bilateral ties worldwide. Pioneering Indian and Chinese companies are rediscovering the fabled Silk Road which joined their nations in ancient times. Winning in each other's markets is also making them stronger and whetting their appetite for further global expansion. The Silk Road Rediscovered is the first book ever to analyze the growing corporate linkages between India and China.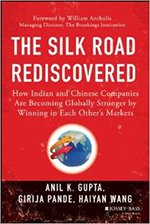 About the Speaker
Dr. Anil K. Gupta is the Michael Dingman Chair in Strategy and Globalization at the University of Maryland's Robert H. Smith School of Business. A member of the World Economic Forum's Global Agenda Council on Emerging Multinationals, he has served on the boards of several NYSE- and NASDAQ-listed companies in the United States and as chief advisor to The China India Institute. Gupta is also a columnist for Bloomberg BusinessWeek, contributing editor for Chief Executive magazine and contributor to the Harvard Business Review.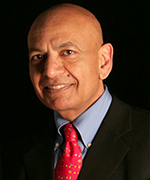 In addition to his newly published The Silk Road Rediscovered, Gupta has authored and coauthored several books, including Getting China and India Right, winner of the 2009 Axiom Book Awards' Silver Prize and a finalist for the Asia Society's Annual Bernard Schwartz Book Award. He has written over 70 papers in leading academic journals and has contributed opinion pieces for major media outlets including The Wall Street Journal, Financial Times and China Daily. He is also interviewed frequently by leading media includingCNBC, Bloomberg TV and CCTV.
Gupta is ranked by the London-based Thinkers 50 as one of the world's "50 most influential living management thinkers" and has been named by The Economist as one of the world's "superstars" in a cover story on "Innovation in Emerging Economies." He is also one of only three professors, out of over 25,000 worldwide, to have been elected a Lifetime Fellow of the three most prestigious academic bodies in his field – Academy of Management, Strategic Management Society and Academy of International Business.
Organized by:
Co-organized by:
​
Click start
to apply for
lecture
.