Meet with Dr. Anil K.Gupta – one of "the world`s 50 most influential management thinkers" in Beijing
Smith Impact Event
Global Megatrends and Game Changers
by Dr. Anil K. Gupta

Date: Wednesday, August 12, 2015
Time: 4:00 - 7:00 p.m.
Venue: Ballroom III, Beijing Marriott Hotel Northeast

In the early 1990s, China was a relatively small economy which had just built its very first highway. Mobile phones were a luxury purchased mainly by rich Europeans. And, social media meant walking over to your neighbor to borrow his/her newspaper. How the world has changed over the last twenty years. Look ahead to 2025.Notwithstanding how much change we have witnessed in recent years, it's a certainty that the quantum of change over the next ten years will be even greater than over the last twenty. In this talk, Professor Gupta will discuss the six megatrends that will drive this transformation:
Restructuring of the global economy;

Growing volatility and risks;

Divergent demographics;

Digitization of everything;

Global warming and environmental crunch; and

Rise of the empowered individual
The collective impact of these global game changers will be such that the structure and dynamics of the world's economy, politics, and culture in 2025 will be fundamentally different from what they are today. Professor Gupta will also discuss what these megatrends mean for countries, companies, investors and individuals in terms of who can expect to thrive in the new era.
If you are interested, click "Read more(阅读原文)" to RSVP or send your Name, Company, Title and contact # at mbauibe@hotmail.com to register.
About the Speaker:
Dr. Anil K. Gupta is the Michael Dingman Chair in Strategy and Globalization at the University of Maryland's Robert H. Smith School of Business. A member of the World Economic Forum's Global Agenda Council on Emerging Multinationals, he has served on the boards of several NYSE- and NASDAQ-listed companies in the United States and as chief advisor to The China India Institute. Gupta is also a columnist for Bloomberg BusinessWeek, contributing editor for Chief Executive magazine and contributor to the Harvard Business Review.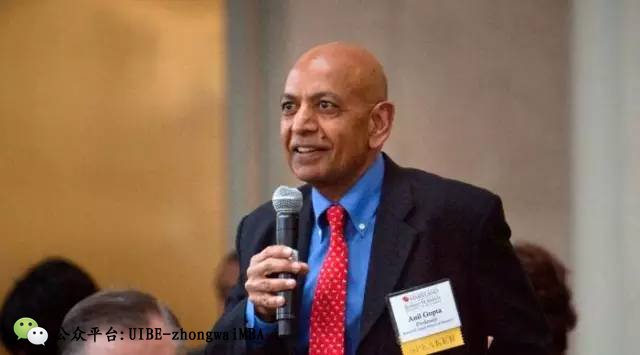 In addition to his newly published The Silk Road Rediscovered, Gupta has authored and coauthored several books, including Getting China and India Right, winner of the 2009 Axiom Book Awards' Silver Prize and a finalist for the Asia Society's Annual Bernard Schwartz Book Award. He has written over 70 papers in leading academic journals and has contributed opinion pieces for major media outlets including The Wall Street Journal, Financial Times and China Daily. He is also interviewed frequently by leading media including CNBC, Bloomberg TV and CCTV.
Gupta is ranked by the London-based Thinkers50 as one of the world's "50 most influential living management thinkers" and has been named by The Economist as one of the world's "superstars" in a cover story on "Innovation in Emerging Economies." Out of over 25,000 worldwide, he is one of the three most prestigious academic bodies elected as a Lifetime Fellow in his field– Academy of Management, Strategic Management Society and Academy of International Business.